Tendances Concept Montréal boasts over 40 years of experience in the design and manufacturing of luxury kitchen cabinets. This high-level of expertise has since allowed us to become recognized leaders in the field of custom kitchen design in Quebec. 
About our company
The expertise of our kitchen designers is reflected not only through their excellent listening skills that allow them to pinpoint your needs but also in their ability to bring your dream kitchen to life. What's more, their work ethic is second to none, as is their exemplary after-sales service.
Elevating your vision
Do you have a project in mind but don't know where to start? Our kitchen designers will take the time to sit with you and discuss your needs and inspirations while taking into account all other factors needed to design a custom project that meets your wishes.
Ally in your endeavor
After a few meetings, your kitchen designer will put their creative flair and knowledge to work in order to design a unique and timeless space. We work together with you during the creative phase of the project to deliver a design that meets your vision and criteria.
Unmatched quality
The professionalism of our kitchen designers throughout each phase of the project (design, manufacturing, installation) enables quality control that meets even the highest industry standards. Your designer oversees all aspects of your project to ensure your complete satisfaction.
Durable designs
Our after-sales service focuses on the durability of our products. We want you to not only be proud of your kitchen but also enjoy it for years to come. That's why we offer a LIFETIME WARRANTY on hardware and a 5-YEAR WARRANTY on materials used to manufacture our products.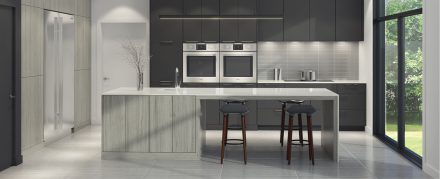 Fully personalized service
Our kitchen designers are fully dedicated to meeting your needs, desires and tastes, creating a custom kitchen or bathroom designed specifically for you.
Leaders in kitchen design
At Tendances Concept Montréal, we're committed to living up to our stellar reputation at every stage of your project.
Exemplary manufacturing
Our management, production and quality control processes are among the most rigorous in the industry. In this respect, our business partners share our values, further supporting the quality of our products and designs.
Outstanding customer service
Everyone at Tendances Concept Montréal is driven by the desire to provide unparalleled customer service. Our values guide every action and decision taken by the company, its leaders and its employees.
Our team
Professionals that combine their passion for kitchens and love of design.
Learn more
Promotions
Renovations have never
been so delicious!
Learn more
About us
Creators of exceptional moments since 1979.
Learn more