Trends in interior design are always evolving, but certain classic features always make a comeback, lending a touch of timeless elegance to home décor. Arches are among these elements as they instantly transform any space into an oasis of style and sophistication. At Tendances Concept Montréal (TCM), we celebrate the beauty of arches and their triumphant return to the world of design.
The power of arches
Arches have a long history in architecture and design that dates back to antiquity. Synonymous with strength, stability, and grace, they were mainly found in exterior architecture, such as triumphal arches and entranceways to emblematic buildings.
Today, they are popular in interior design. They can be incorporated into doors, alcoves, mirrors, windows, furniture, and framed wall openings. Their versatility makes them suitable for various styles, from classic to contemporary, minimalist to industrial.
The elegance of open spaces
Open spaces add sophistication by providing a fluid transition between different areas of your home. A well-designed layout can discreetly separate the dining room from the living room or open the kitchen to the living room, creating a harmonious flow.
Open spaces also provide an opportunity to manipulate light; a clever design captures and diffuses natural light, creating a warm and inviting atmosphere. This makes them an ideal choice for rooms that require natural light, such as kitchens and bathrooms.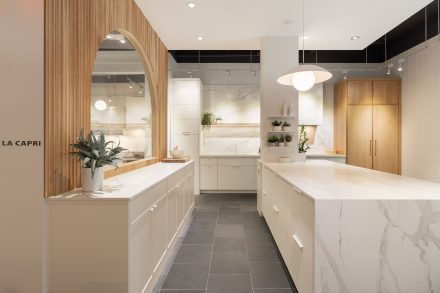 In the kitchen
The kitchen is a popular space for incorporating arches. When strategically positioned over a central island, it instantly becomes the kitchen's focal point, adding a touch of glamour. They can also be incorporated into cabinet doors to add an intriguing architectural dimension to your storage space.
What's more, they blend perfectly with warm wood finishes, marble countertops, and brass fixtures. They are, therefore, a must for kitchens that combine elegance with traditional flair, adding a classic yet luxurious effect.
Arches in the bathroom
Arches can also add a touch of elegance to a bathroom. When placed over a bathtub, an arch can create a majestic setting for relaxation. They can also be integrated into mirrors or alcoves for a striking visual impact.
In terms of materials, arches harmonize perfectly with ceramic or marble tiles. They add an artistic dimension to the space, transforming an ordinary bathroom into a sanctuary of well-being.
Arches in the TCM showroom
At TCM, we're always on the lookout for the latest trends in interior design, and arches have certainly caught our attention. That's why we decided to incorporate them into our new showroom. We want to show our customers how this design element can transform their space.
Walking through our showroom, you'll immediately notice how arches can transform a space into something elegant and practical. We've incorporated them into our layout to illustrate their ability to add a distinctive touch to your interior. At TCM, we believe that interior design is about art and function, and arches are a creative way to express that vision.
In short, arches are more than architectural features; they're versatile design elements that bring timeless sophistication to your interior. At Tendances Concept Montréal, we're committed to being at the forefront of interior design, which means sharing our love of arches with our clients. If you'd like to incorporate this trend into your home or explore other innovative design ideas, please don't hesitate to contact us. We're here to help bring your design ideas to life.
We hope this article inspires you to incorporate arches into your design and thus enhance your interior style while keeping up with the latest trends.