After 25 years of outstanding achievements in the world of design, Manon LeBlanc officially joins forces with Tendances Concept Montréal (TCM). This marks the beginning of a new era of creativity and innovation in custom kitchen, bathroom, and furniture design.
To celebrate this long-awaited collaboration, TCM organized a memorable evening when we introduced our revamped showroom. Well-known celebrities were present to mark this important milestone in the history of TCM and Manon LeBlanc's career. The unveiling was the highlight of the evening and marked the beginning of an exciting adventure for these two major players in the design world.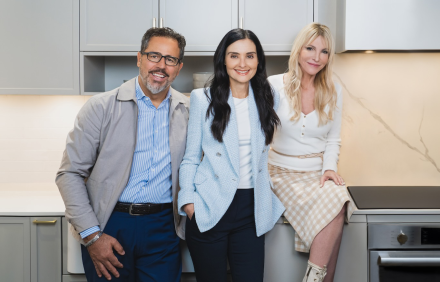 Tendances Concept Montréal is a prestigious custom design studio located on Saint-Laurent Boulevard. With the help of a skilled team and renowned designers, TCM offers complete design solutions, including plan creation and accessory selection, all in one place. Since its inception, it has quickly become a benchmark in custom design.
This collaboration between TCM and Manon LeBlanc opens up exciting new possibilities for design and renovation enthusiasts. Now is your chance to tap into Manon LeBlanc's creative genius and transform your space into a masterpiece. Read on to learn more about the process.
Meeting in the showroom
You'll begin with a showroom meeting with Manon LeBlanc and a TCM kitchen designer. This is an opportunity to assess your needs, aesthetic preferences, and budget. You can even select cabinet materials and countertops!
Choosing the details
A second showroom meeting is then scheduled to select the decorative elements that will complete the room's design. You can choose tiles, plumbing, wall colours, and fixtures that match your vision.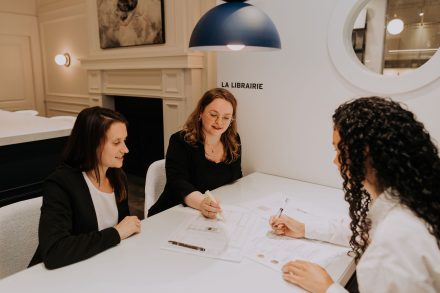 Starting production
Once the final plans are approved, construction can begin. This step marks the beginning of the transformation that will turn your space into a masterpiece of design, courtesy of the expertise of Manon LeBlanc and the talented TCM team.
But that's not all! TCM stops at nothing to satisfy its clients. In addition to providing exceptional design services, Tendances Concept Montréal now offers ten fresh, healthy meals prepared by renowned nutritionist Isabelle Huot for free with every kitchen project! This initiative is aimed at making your renovation experience as pleasant as possible by allowing you to enjoy scrumptious meals while your new kitchen is being installed.
This way, every kitchen project becomes a turnkey experience that combines sophisticated design with delicious food. Take advantage of this exceptional offer to make your remodeling project an unforgettable experience.
The partnership between TCM and Manon LeBlanc opens up new possibilities for those seeking exceptional design and customized renovations. With a dedicated team, customized 3D plans, and complimentary meals included with every project, Tendances Concept Montréal is more than dedicated to making your design goals a reality. Now's the time to breathe new life into your space by calling on the expertise of TCM and Manon LeBlanc to create the custom kitchen, bathroom, or furniture of your dreams. For more information on this exciting collaboration, please visit https://tendances-concept-montreal.com/en/manon-leblanc/ 
Don't miss the opportunity to work with Manon LeBlanc and TCM to transform your space into a work of art. Renovating your home interior has never been more exciting or accessible.