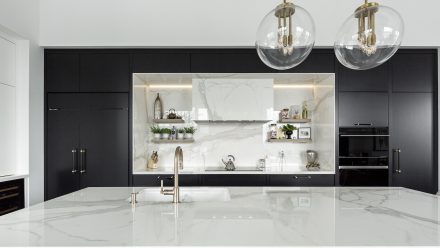 Lacquer cabinets on MDF are available in matte, glossy and Italian-style finishes. These are models that resemble wooden doors while being environmentally friendly because their manufacture does not result in direct slaughter of trees. Medium density fiberboard, MDF, English medium density fiberboard, is made from wood shavings supplemented with synthetic resin. Wood fibers used in the manufacture of MDF are usually derived from pruning timber and wood machining wastes, which allows optimal use of the trees. This material is very insensitive to climatic variations and is homogeneous in all three dimensions. It is also a more economical choice than wood. Tendances Concept Montréal offers the development of colors according to the palette you desire (e.g.: Benjamin Moore color palette).
Benefits
Environmentally friendly since it does not cause direct slaughter of trees
Model that resembles wooden doors
Wide choice of color and finishes (matte or glossy)
Very insensitive to climate change
Homogeneous in all three dimensions, no defect
More economical than wood
Curve less than wood
Disadvantages
Available in opaque color only, no wood grain
Tolerates hard knocks and shocks (easily marks)
Difficult to retouch in case of scratches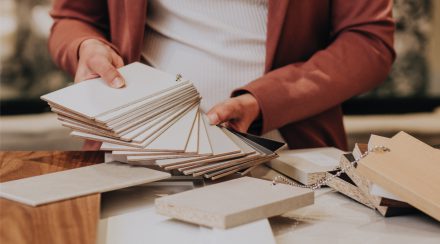 Nu green MDF cabinets (green product)
No formaldehyde-based resin is used in the manufacturing process. Its level of formaldehyde emission is as low as that of a tree found in its natural environment. Always with the same advantages as the regular MDF and the product does not contain an emanation.
Benefits
Same advantages as regular MDF
Without emanation
Without urea formaldehyde added
Can help achieve LEED points
Disadvantages
Same disadvantages as regular MDF